Static White 4000K 24V LED Spot Module


Feature
The TILLUME 24V LED Spot Module is the perfect solution for all applications that require a clearly aligned and yet homogeneous light pattern.Be it the application in the private or business environment with the TILLUME 24V LED Spot you always achieve an optimal lighting result.
With its light color of 4000 K and its very high color rendering CRI>90, the spot provides natural illumination in the defined area.
The size in the form of a conv. MR16 bulb (diameter 50mm) allows installation in any conventional recessed spotlight. Thus, the spot is suitable use in newly planned Lighting systems also for retrofit use in existing systems, which are converted to modern LED tech in 24V Power technology

Due to the 24V constant voltage technology, the wiring is in Parallel switching is very simple and enables linear dimming behavior from 0.1% - 100%, But depending on the dimmer your used. In addition to use with KNX or DALI dimmers, it is also possible to use the spot modules with PWM dimmers operated by Loxone, Homematic or Dresden Electronics.
Technical Data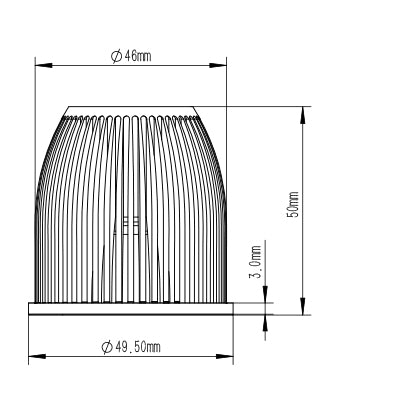 Operating voltage: 24V DC
Max. current consumption: 0.33 A
Max. power consumption: 8 W
Luminous flux: approx. 800 lm
Color Temperature: 4000K
Color rendering index CRI: >90 Ra
Beam angle: 60 degrees
Dimmable: yes, up to 0.1% with the appropriate PWM dimmers
Chip type: COB
Service life: >50,000 hours
Operating temperature: -25 degrees Celsius to +60 degrees Celsius
Storage temperature: -40 degrees Celsius to +80 degrees Celsius
Dimensions: 50 mm with a diameter of 49 mm
Connecting cable: 150 mm, open wire ends