People usually judge a lamp quality through wattage, not by lumen Flux. That is a pitfall for most people.
Before LED technology used in lighting, traditional light brightness and energy consumption is positive correlation due to their technical principle. So most people is accustomed to estimate their brightness by wattage. That is corrcet when you buy incandescent lamp. Till LED technology be used lighting, as a newest light soures technoloy, LED have more light efficiency than traditional light. Better quality led, better heat dissipation management ability that will bring more brightness with less wattage. So TILLUME always pay more vigours in this points, select high quality led and continue researching and development heat dissipation platform, In order to make our customer can pay less money to gain more brightness. Some low quality product usually have more energy consumption but less brightness output. If we only compare with wattage between bad product and good lamp, we will make a wrong mistake and get a bad product as more money.
At all, we buy a lamp is for its brightness, not wattage. Wattage is a vaule for energy consumption. we have to know the important vaule of lighting, it is lumen Flux.
Here a definition of specialty about lumen Flux, please know that.
Lumen Flux(lm) :The sum of the amount of visible light emitted by the light source per second.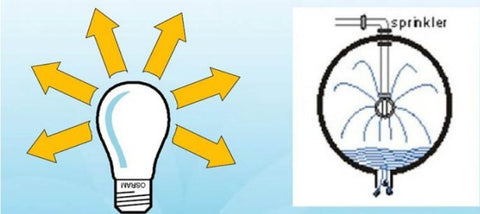 So when you want to buy a lamp to increat your space brighntess or you want to compare with the quality between different brand, please don't only take care of wattage, but also lumen. You can use a formula as simple assessment. It is divide lumen into price, you will know which one is more ecomony for you easily.