LED Flexible Strip Light Buying Guide: How to choose LED strip lights
Due to the performance increase like lumen efficiency, color options, brightness, and ease of installation.  LED Flexible strip light is rapidly rising. More and more architects and designers are implementing LED strip lights into residential, commercial, and industrial projects. And because of lower voltage power, LED strip is also used in Home automatic lighting systems like DALI and KNX control systems.
There are many options on the market for LED strip lights (also called LED tape lights or LED ribbon lights) and there is no clear standard for how to choose LED strip lights. TILLUME list this guide to help experts and newcomers when before buying LED strips. 
Because each project is unique, there is no all-in-one solution. Different projects require different types of LED strips. So we have to clear something as below first.
Where do you want to use it?
What type of location are you in? Residential, commercial, retail, outdoors?
What specifically will you be lighting?
Where will it be installed? Under cabinets, kick boards, coves, eaves, backlighting, display cases?
What material will the lighting be attached to?
How many lengths do you need?
Which Functions do you want?
What overall look do you want to achieve? 
Do you want accent lighting, task lighting, perimeter lighting, indirect lighting, principal lighting, specialty application, etc
Do I need High CRI for high color rendering?
Do you want the lights to emit a white light only? Single color like red, green, or blue? Have the ability to change colors with a remote? Or have the ability to change the white output from warm to cool white with a remote?
Are there other lights in the area and if so, what color are they?
Do you want to dim your lights or control them with a remote or DALI, KNX?
Others
Do you want to create a calm, seductive, energetic, hopeful, safe, relaxed, bold, or fun environment?
What do you want your guests and customers to think or say when they enter your space?
B

efore choosing or comparing an LED strip

,

you need to know the Top

 important

 

3

 

parameters
1.
 

Compare Lumen, CCT, and CRI (Color Rendering Index)

Lumen is the measurement of brightness as perceived by the human eye. Because of incandescent lighting, we are all accustomed to using watts to measure the brightness of the light. Today, we use lumen. Lumen is the most important variable when choosing LED light

If you are a newcomer, please read the article: LED Glossary and Terminology 

Firstly you need to know how many lumens you need. In different projects brightness requirement is different. From our experience, we suggest that you select more brightness led strips and work with a dimmer in an application. That is running your LEDs below their full power and brightness can also increase lifespan.

Below is a quick guide on the needed lumen.
Accent Lighting and Mood Lighting 

-

900

 to

1200

 lumens per

meter

Under cabinet Lighting 

- 

600

 to

1800

 lumens per

meter

Task Lighting with a low distance from the light source

 -

900

 to

1200

 lumens per

meter

Indirect lighting in a bedroom/ hotel/living room 

-

1200

to

1800

lumens per

meter
Correlated Color Temperature
CCT (Correlated Color Temperature) is a main parameter of light, it refers to the color temperature of light, the temperature rating directly affects what the white light will look like; it ranges from cool white to warm white.
For instance, a warm white light has a 2000 – 3000 K rating. The warm white light looks very orange and/or yellow. When increasing the CCT, the color of light will change from yellow to yellowish-white to white and then a bluish-white (it is around 7000K).
All CCTs are not created equal. You may notice that some lights that are "cool white" may not look pure white. They may give off a greenish, purplish, or bluish hue to them. This is because the LEDs have been selected from a presorted pile (bin) that is far from true white, in order to save money. That is one of the reasons why some LED strips have a very low price.
Which color temperature should you choose?

From this form, you can easily know that lighting changes the mood and style of the space! The aesthetic, function, or emotion of space may change depending on the color temperature you use.
Choosing the right color temperature is not difficult, You can check the reference CCT as the picture we offered. If you are having difficulties choosing which LED CCT is best for your project, consider buying TILLUME Tunable White LED Strip, you can adjust CCT from 2200K-7000K freedom.
CRI - Color Rendering Index
Can't tell the difference between the black and navy-colored socks? Could be that your current LED has a very low CRI!
The Color Rendering Index (CRI) measures how colors are correctly rendered under a light source in comparison to natural sunlight. The index is measured on a 0-100 scale with 100 being a perfect rating of color accuracy, meaning the colors appear as they naturally would under unadulterated daylight. the higher the CRI, the higher quality is the light source.
95 - 100 CRI →  Phenomenal color rendering. Colors appear as they should, subtle tones pop out and are accented, skin tones look beautiful, art comes alive, and backsplashes and paint show it's truly beautiful full saturation. You have to see it to believe it!  Our product has CRIs up to 95! 
90 - 95 CRI → Great color rendering! Almost all colors 'pop' and are easily distinguishable. Noticeably great lighting starts at a CRI of 90.
80 - 90 CRI → Good color rendering, where most colors are rendered well. You may not see items as fully saturated as you would like, but most people will not notice. 
60 - 75 CRI → Poor color rendering. Items and colors may look desaturated, drab, and at times unidentifiable (cannot see the difference between black and navy-colored socks).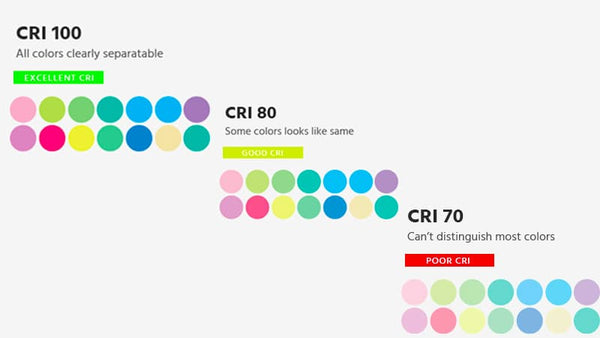 2. Compare LED strip size and number of LEDs on the strip
Traditionally, LED strip lights are packaged on a reel (spool) of 5 meters. Some will be 10 meters and 15 meters.
Measure how many meters you need of LED strips before you start. This will make it easier to compare prices (after quality is compared, of course). After you determine the number of meters you need, Please check how many LEDs are on the reel. This can be used to compare LED strips between companies and know which one has a better life-time. 
More LEDs in one meter means lower current used for LED, it will make LED work more stable and longer lifespan.
3. Wattage consumed per strip of LEDs
In general, the wattage of the LED strip said, means the wattage per meter. It is not the wattage of a reel. Power consumption is one of the reasons we as a society have begun switching to LEDs. Wattage tells us how much power we are consuming while these lights are on, and in turn how much we'll have to pay at the end of each month. Once again, be sure to verify the wattage per meter, or reel before you buy. You have to confirm the power supply base on it.
Finally, make sure you understand the voltage that your flexible LED strip lights use. An LED strip light that uses 24 Volts will not work if you purchase a 12-volt power supply, and also may result in the risk of fire